Motion Seat Simulator
The Motion Seat Simulator is one of F1showcars latest offerings!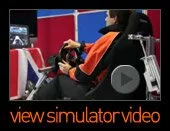 Designed for limited space or for the smaller budget but still a great crowd puller. Feel every bump, resist the gravitation pull round corners.
Linked with ether our F1/Rally/touring car simulation software it is bound to be a experience not to forget. F1showcars is one of the first companies to offer such a product so be the first to impress.
The Motion Seat Simulator features:
Racing bucket seat with motion
Force feedback steering wheel
Surround sound
Led dashboard
Lastest gaming software
The Motion Seat Simulator is suitable for:
Exhibitions
Conferences
Open days
Event attractions
Private hire
Corporate Branding & Advertising
Our Motion Seat Simulator can be fully customised with your logo and company branding. From simple vinyl graphics to full vinyl wrapping and paint jobs. You will be sure to impress and be impressed.
Grid Girls
To help provide that authentic Motorsport atmosphere, why not add an grid girl? Accompanying the Motion Seat Simulator we can also provide custom grid girl suits with your company logo and branding.
Additional Services
At F1 Show Cars our aim is to provide you with a fantastic and unforgettable experience. If there are any additional services you require that aren't listed here then please do contact us. If we can't provide it ourselves then its more than likely that we know someone who can!