Hire a Formula 1 Show Car
Hire one of our F1 show cars to draw in the crowds at any exhibition, conference or promotional event.
Most people will only see Formula 1 cars on the TV. If you hire one of our F1 show cars you're bound to get plenty of attention from people who want to get up close and personal to one of the world's fastest cars.
You can hire our 2007 spec F1 car, which can be fully customised with your company branding. We also by request can so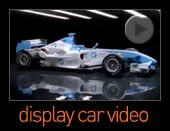 urce other F1 carsincluding race driven cars. We can also organise multiple car displays from older F1 cars to modern times. The show car can help you bring some of the glamour and excitement of F1 to your:
Exhibition stand
Product launch
Company party
Shopping centre display
Private function
Cars can be hired for just a day or for longer periods of time - we're flexible enough to work around the needs of your business.

Corporate Branding & Advertising
Our F1 show car can be fully customised with your logo and company branding. From simple vinyl graphics to full vinyl wrapping and paint jobs. You will be sure to impress and be impressed.
F1 Look Alikes
The ultimate crowd pleaser - from new to old, drivers to managers, we can provide a high quality F1 look alike for your event.
Grid Girls
To help provide that authentic Formula One atmosphere, why not add an F1 grid girl? Accompanied with the F1 show car we can also provide custom grid girl suits with your company logo and branding.
Additional Services
At F1 Show Cars our aim is to provide you with a fantastic and unforgettable experience. If there are any additional services you require that aren't listed here then please do contact us. If we can't provide it ourselves then its more than likely that we know someone who can!